Miami Beach, is the city in the sun at the southern tip of Florida with white sand beaches and a luxury lifestyle in its neighborhoods and communities. Something that should be highlighted is that it's a metropolis built around small islands, mostly human-made and that now are the best gated communities in Miami Beach to live. The latter accentuates its reputation as the number one residential choice for the wealthy craving azure water and blue skies. You can find these real estate hotspots in the area popularly referred to as Miami Beach – a spectacular stretch of land that embraces both Biscayne Bay and The Atlantic Ocean. Locals and visitors love to take a leisurely drive north on Collins from South of Fifth to 88th street, where it borders Surfside, to breathe in the salt air, and feel the stress-free vibe.
Miami Beach Gated Communities Map
See what is the exact location of each one of the Miami Beach Gated Communities in the map below. On each location, you can find a link to see the homes on that community, its images, description, prices, and amenities.


Fisher Island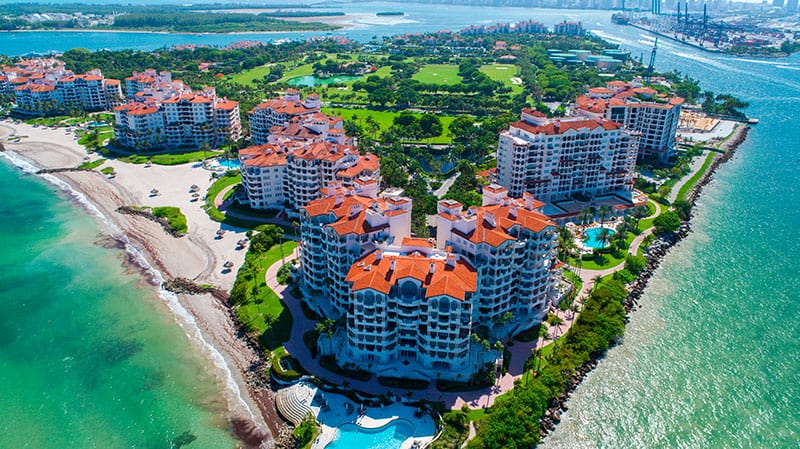 Catch the designated ferry, or own your private yacht. It's the only way to go back and forth from this 216-acre exclusive island and resort location – one of the USA's most expensive zip codes. If ever there was a case made for "Location, location, location," expressing genuine real estate value, this is it. Expect only prices in the millions for condos and sea-front single-family mansions alike. It doesn't take much imagination to appreciate that residents rank privacy as their most valued Fisher Island benefit. That aside, Miami's expanding skyline affords the island's residents iconic views and the big city connection. Indeed, looking at the island from South Beach, it seems like a stone's throw away. Those fortunate enough to purchase a home on Fisher Island are likely to leave it less and less. The amenities and recreational facilities are in the same class as Monaco, the small principality on the French Riviera.
Price range: 1M to 35M+
Median Listing Price: $3,750,000
Average days on the market before sold: 339
Fisher Island Gated Community Homes: Fisher Island Condos for sale
Venetian Islands
Biscayne Bay connects Miami Beach to Midtown/Edgewater. In the middle of it, there are six human-made islands accessible via the Venetian Causeway (i.e., a private toll road). They are:
Biscayne
San Marco
Di Lido
San Marino
Belle Isle
Rivo Alto
Although there are residences all over the islands with waterfront locations and boat docks, dry lots are always available. Architectural styles don't follow a fixed pattern, presenting the face of traditional alongside modern and contemporary.  
Price range: 1M to 40M+
Median Listing Price: $3,849,000
Average days on the market before sold: 190
Venetian Islands Gated Community Homes: Venetian Islands Homes for sale
Allison Island

A short walk from the beach lies Allison Island smack in the middle of the Intracoastal waterway. If you are coming down Alton Road, just before Indian Creek heading east: 
Turn left into the northern part of Allison Island.
Or right into Aqua on the southern part of the island.
Both are gated communities. 
In total, it's an 8,5-acre strip with expansive water on all sides. Other islands close by are Normandy Isles and the exclusive La Gorce Island. 
The theme running through the two sections is quite different. The north section consists of only single-family homes on large lots of one-third to just over half-acre lots. Conversely, Aqua represents a mixture of four-story townhomes and a few mid-rise luxury condo buildings. It also features a fantastic community pool area that feels and looks like the lower deck of a cruise ship. Aqua's architecture is modern and contemporary. It offers residents a health club that's state-of-the-art, featuring the latest fitness equipment with steam rooms and saunas. 
With many of these in-water communities, the bridge is so short that you don't realize it's an island until you get out and walk it. Alison Island is a case in point.
Price range: 900K to 20M+
Median Listing Price: $1,924,500
Average days on the market before sold: 202
Allison Island Gated Community Homes:

Allison Island Homes for sale
La Gorce Island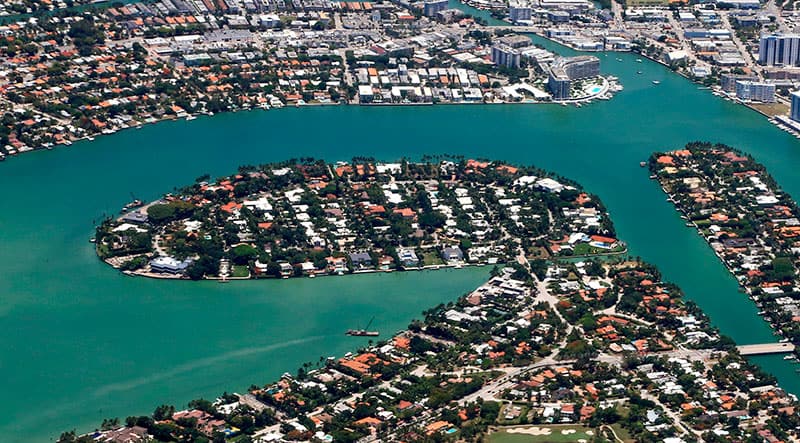 The island is a boatowner's paradise offering many home sites on the water with large-sized docks to accommodate even mega yachts. In general, the island provides privacy and tranquility in a lush tropical setting. Dry lot residences, in the majority, enjoy this unique ambiance minus the water views. Vantage points on every corner of the island allow the residents to take in magnificent vistas of the Miami Beach coastline with tall glass buildings as far as the eye can see. Another feature is the La Gorce Country Club, providing golf, tennis, and wellness facilities to the island's residents.
La Gorce, similar to its neighbor Alison Island, connects with quick car rides to all the action, including excellent restaurants, the famous Bar Harbour Shops, and South Beach's vibrant nightlife. 
Price range: 2,5M to 30M+
Median Listing Price: $3,900,000
Average days on the market before sold: 364
La Gorce Island Gated Community Homes:

La Gorce Island Homes for sale
Sunset Islands


These are four independent islands known as Sunset Island I, Sunset Island II, Sunset Island III, and Sunset Island IV. Owing to its location on the westerly point of the Miami Beach area, along North Bay Road, these are highly desirable neighborhoods. They have particularly stunning outlooks over Biscayne Bay to the skyline of Downtown Miami. In case you get confused here's the order of things:
Sunset Island 1 is the most northerly.
Sunset Island 4 is the southernmost Island. 
One thing you would expect to see from these islands are startling sunsets, and you do. Home facades range from traditional to the ultra-modern. Like others of its ilk, there's 24/7 gated security, and many backyard boat-docks giving open bay access.
Price range: 2M to 20M+
Median Listing Price: $8,900,000
Average days on the market before sold: 179
Sunset Islands Gated Community Homes:

Sunset Islands Homes for sale
Indian Creek Island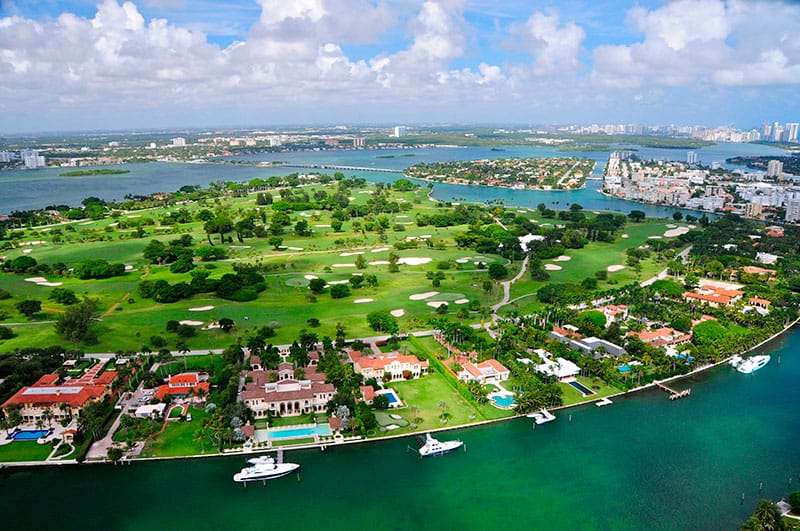 Indian Creek Island, frequently referred to as "Billionaire Bunker," is a gated island community on Biscayne Bay in the northernmost point of Miami Beach. It exudes luxury throughout its 250-acre expanse. With its private golf course, the Indian Creek Village Country Club, residences here routinely sell in the multi-millions. Every one of the forty mansion-like homes is privileged to have a unique waterfront position and an outsized lot. Island security functions at a different level under the auspices of a private police force patrolling the roads and surrounding waters.
Hibiscus Island, Palm Island and Star Island


Again, this island-trio is a beacon of the Miami luxury at its best. All are gated, on Biscayne Bay, parallel to the Macarthur Causeway connecting Downtown Miami with Miami Beach. The homes are of the same caliber as Indian Creek Island with signature mega yachts in front of the living rooms. Exclusivity, safety, and minutes away from the South Beach action when you want it attracts the wealthiest snowbirds, celebrities, and tech entrepreneurs. Of the three, Star Island (with only 35 residences) is the preferred but the more expensive choice. At the same time, the other two offer exceptional boating facilities with a relatively higher home density (i.e., 150 homes each). Security is a big thing on most of the islands, but oddly enough not with these three. It's not too tricky for visitors to get through the security guards once they suss you out. You don't have to know a resident to be allowed in.
Price range: 1,5M to 30M+
Median Listing Price: $6,999,500
Average days on the market before sold: 154
Hibiscus, Palm and Star Islands Gated Community Homes:

Homes for sale
Normandy Isle and Shores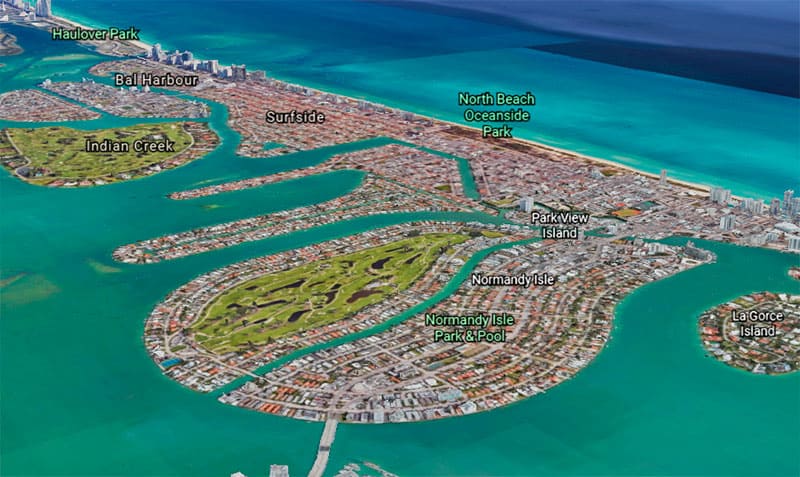 Normandy Isle (the north end of the island duo) and Normandy Shores (southern end) in Biscayne Bay, Miami Beach, are divided by water but connected in two ways via Biarritz Drive and North Shore Drive. The Normandy Shores Golf Club is ideally situated for the wealthy resident community here for a combination of water sports and links challenge.  
Normandy Isle, slightly north of La Gorce Island and south of Biscayne Point, has 10,000 residents close to convenience stores and restaurants on the island. Miami beaches, Bal Harbour shopping, and cultural attractions are a short ride away. In contrast, Normandy Shores is smaller, offers more privacy and better residential boating options.
Price range: 500k to 8M+
Median Listing Price: $1,699,996
Average days on the market before sold: 181
Normandy Isle and Shores Gated Community Homes:

Homes for sale
Biscayne Point and Stillwater


We've arrived at the northwest tip of Miami Beach. North of Normandy Isle and south of Surfside lies Biscayne Point. This area splits into two peninsulas – Biscayne Point (the southern one) and Stillwater (the northern one). The majority of homes are waterfront, enjoying outstanding views of the Miami skyline over Biscayne Bay. 
Biscayne Point is known for its tranquility, yet still close to the beaches and Miami Beach entertainment. Here you see residences across a wide price range, starting at less than a million going sky-high for a truly iconic location, of which there are quite a few. Water and golf courses in surrounding neighborhoods abound, including Indian Creek Country Club, La Gorce Country Club, and the Normandy Shores Golf Course.
Price range: 500k to 7M+
Median Listing Price:$2,375,000
Average days on the market before sold: 143
Biscayne Point and Stillwater Gated Community Homes:

Homes for sale
Michael Martirena and Ivan Chorney are top producers in Miami Luxury Real Estate with more than 15 years of experience selling multimillion properties. They both have a wide knowledge of the market and the prices, not in vain, their full website is composed of market reports built by themselves with predictions and trends for homes and condos in South Florida.
Contact Ivan and Mike for personalized information on island gated communities in Miami Beach.