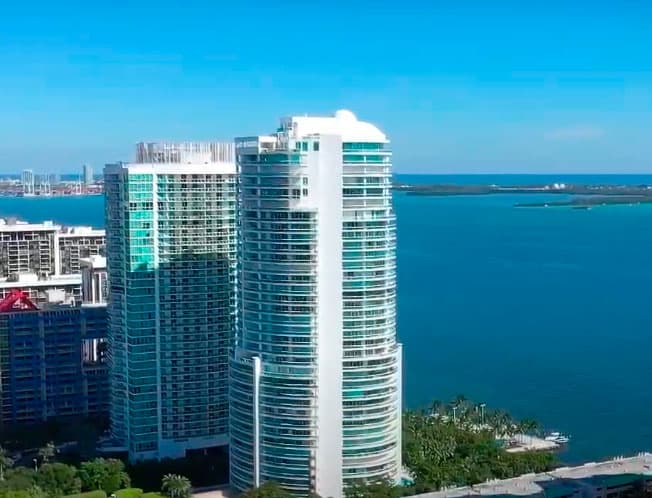 2127 Brickell Ave Miami FL 33129
Bristol Tower, a 40-story luxury condominium with its infamous cylindrical shape and glass windows, is located on Brickell Avenue and serves as a hallmark of Miami's stunning skyline thanks to its particular design and style. Because of its contemporary interior design and unique amenities, Bristol Tower, completed in 1993, accomplished a record-breaking sellout of all 147 units.
Developed by CMC Group, led by renowned developer Ugo Columbo and pilot of the recent Brickell Flatiron project, Bristol Tower offers awestriking, 270-degree views of Biscayne Bay and the city. Designed by Revuelta Vega Leon Architects, who also designed Mint and Epic in Miami, the building is encircled by exquisite spacious balconies decorated with glass railings, allowing residents to relax peacefully by the sea. Furthermore, the interior design compliments the luxurious essence, incorporating private elevator access and resort-style condo living of the finest grandeur.
Bristol Tower offers its residents a variety of amenities that allow them to unwind, relax, and have comfort at arm's reach. Residents can exercise in the state-of-the-art fitness center and recover in the heated swimming pool, sauna, jacuzzi. Additionally, residents can spend a weekend afternoon playing a match at the tennis courts and be attended to by the 24-hour valet parking service and full-service concierge. Residents of Bristol Tower can gather in the tower's café or social room, pick up refreshments from the on-site convenience shop.
Bristol Tower is surrounded by lush landscaping, offering residents ideal bayfront access, making meditation in the building's natural garden a reality. Bristol Tower is best described as an oasis for residents and their guests, as they pride themselves in their privacy. The residences are perfect for those who wish to bring guests who can also experience the true luxury that the tower encompasses.