One of the jewels in Fisher Island's crown is the Palazzo del Sol condominium. This deluxe residence was developed by Fisher Island Holdings. Since its completion in 2016, it offers 43 condo residences over a mere 10 stories. The architecture was penned by the eminent Kobi Karp, while Maestro Enzo Enea shaped the stunning landscape.
Ruby Ramirez and Alison Antrobus composed the refined interior design. The island prides itself on its privacy and access restrictions. As a matter of fact, it can only be reached by seaplane, a private boat or the ferry service. With the original Vanderbilt mansion still existing, residents can enjoy all of its facilities and indulge in its picture-perfect setting.
Built-in the exquisitely restored Vanderbilt Mansion, a Mediterranean-style piece facing the Atlantic that was built in 1936 and designed by the renowned Maurice Fatio. The building became the heart of the Fisher Island's Community and is pure elegance composed of intimate salons and outdoor terraces surrounded by villas and historic cottages.
Palazzo Del Sol condos for sale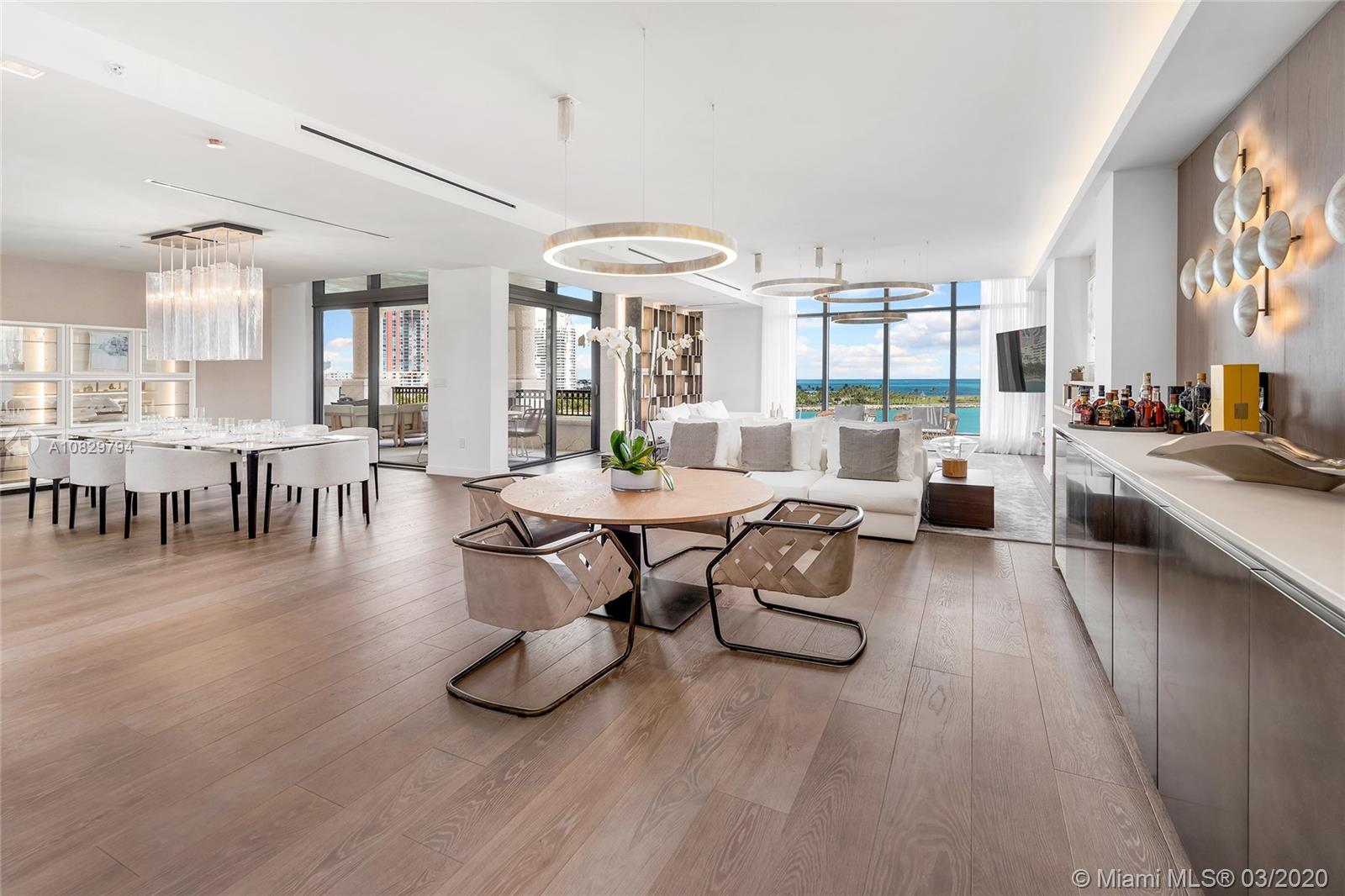 $8,600,000
Active
7075 Fisher Island Dr 7075 Miami Beach, Florida
3 Beds 4 Baths 3,581 SqFt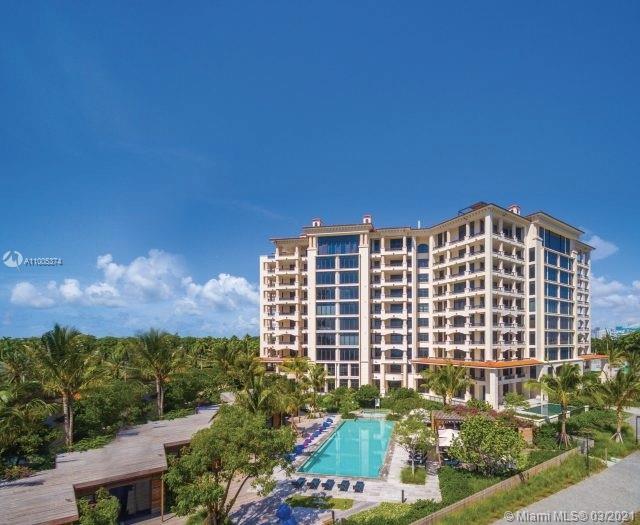 $8,200,000
Active
7055 Fisher Island Dr 7055 Fisher Island, Florida
3 Beds 4 Baths 3,581 SqFt
Palazzo Del Sol Interior and Exterior
The exterior:
An architectural extension of the nature surrounded by crystal waters and terraces that serve as a stage for those who witness unforgettable panoramic views of the sunsets, the beach, the bay, the island and the city. The landscape is an oasis with tropical greens, flowers, gardens, ponds and other elements that create an ideal place for resting, relaxing and the social activities of those who inhabit it.
The interior:
The Largest Apartment is just under ten thousand square feet. It´s a seven bedroom home seven and a half bathrooms, Italian furnished, with exquisite materials like slide limestone that gives the social areas a desert-like look.
Decorating bookcases separate the main room from the super-stylized billiard room with elegant ceiling fixtures.
The Kitchen is also Italian with custom made eight-foot tall doors to fit with the 10 foot high ceilings.
The Dining Room is fit for royalty, European and elegant.
The Breakfast Nook can double as a second dining room and leads its residents outside to a spectacular view of the Atlantic Ocean we're all boats and ships come into the port of Miami.
The Master Suite has a beautifully designed sitting area with a turquoise rug that picks up the colors of the water in the ocean while the four-poster bed is trimmed in leather with wood walls.
The Master Bathroom is all white marble with floating double sinks and an Italian designed bathtub.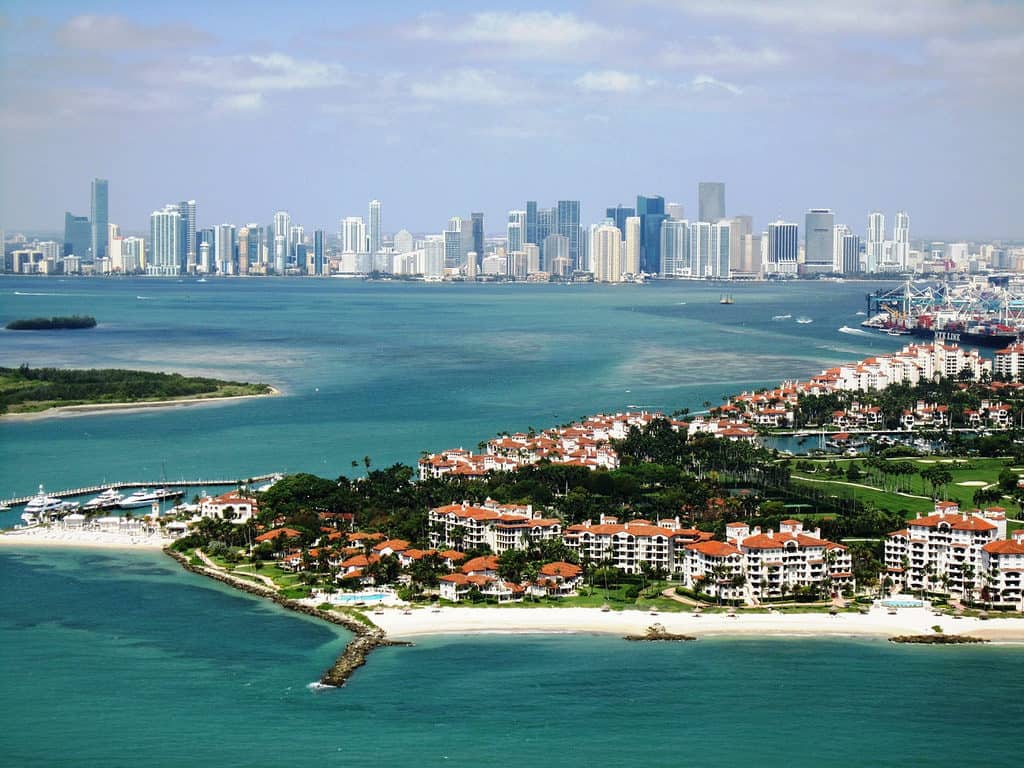 Building services:
Multilingual full-service concierge
Aperitivo bar and lounge
Valet parking
Building amenities:
Fitness center
Private massage rooms
Hair and makeup salon
Movie theater
Business Center
Children's playroom
Poolside cabanas
Outdoor amenities:
North lobby terrace
Heated pool and spa with outdoor bar
Landscaped gardens and walkways
About Fisher Island
An oasis of 216 acres minutes away from downtown Miami and Miami Beach, accessible only by yacht, auto-ferry or helicopter with a mile of white sand beaches and tropical life in the southern United States, where millionaires are attracted by the renowned Fisher Island Club and the luxurious life style of the community.
This true piece of paradise provides luxury and service for the lucky ones who inhabit it. Marinas, Golf Course, Tennis Center, Restaurants, Wellness & Health Spa, Club Hotel, Day School, Park, Town Center and Conferences Center are among the spots that the rich enjoy…
10 important spots in The Island
Dinning venues
There are seven dining establishments ranging from casual to elegant for every palate and occasion: Beach Club, Café Porto Cuervo, City View Café, Garwood Lounge, Golf Grill and Sunset Bar Sushi Bar.
Fisher Island Club Hotel
A member of "The Leading Hotels Of The World" houses four historic cottages, six courtyard villas and a guest house with junior suites.
Golf Course The Links
Designed P.B. Dye is a par 35 championship golf course with double-ended driving range, putting green, club house, pro shop and golf grill.
Vanderbuilt Park
The community park is composed of: exercise area, dog park, children's playground, Basket-ball court and Volleyball Court.
Fisher Island Day School
Fully accredited private school with Pre-K through fifth grade.
Tennis Center
World-class Tennis facility with 18 lighted courts: 2 grass courts, 2 hard courts and 14 hydro har-tru courts.
Spa Intenazionale
24,000 square-foot Mediterranean-style spa retreat covering health service, wellness service, fitness center, personal training and aqua therapy.
Marinas
Two marinas with 100 slips: One residents only marina and one deep-water marina accommodating yachts over 200 feet.
Town Center
A waterfront dining and retail destination set along the island's resident marina hosting the Island market, La Trattoria, Café Porto Cervo, Regions Bank and Rey's Dry Cleaners.
Conference Center
Corporate Board Room that comfortably accommodates up to 40 people, fully equipped with audio-visual technology.
Palazzo Del Sol location map
Fisher Island Helicopter Tour
The most exclusive island in Miami isn't accessible by bridge for sightseers but those privileged who fly overhead can in a gorgeous aerial view…
Fisher Island Golf Cart Tour
Once you arrive on the island, put your car in park, and instead turn the key on your personal golf cart, then roam anywhere you want. Every bit of this exclusive island awaits and all you have to do is set out, then breathe in the tropical breeze as you make your way…
Fisher Island Yacht Tour
Arrived at Fisher Island in style and flowed into one of the two state-of-the-art marinas. Set in a prime location just minutes away from the Gulf Stream tropical waters give way to an island that is designed to meet the needs of the world's most discerning residents…