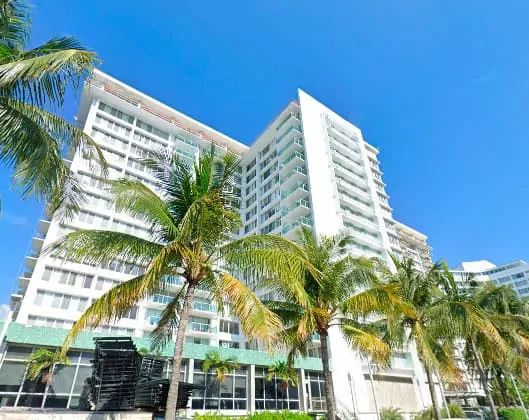 1000 West Ave Miami Beach FL 33139
This project was completed originally in 1968 as an apartment development but was transformed into reimagined condo residences in 2005. Mirador Condos in South Beach (Mirador 1000 – south tower, and Mirador 1200- north tower) are considered some of the most popular destinations on Miami Beach mixing unprecedented standards of tradition and luxury for high-rise living. With stunning views of the Intracoastal Biscayne Bay, the beautiful Miami's city skyline, and the splendid Atlantic Ocean it is hard to imagine a more perfect mingle of proficiencies for this unique construction.
Mirador 1000 is situated at 1000 West Ave, the property features 457 units (comprised of studios, one-bedroom, and two-bedroom floor plans) ranging from 543 to 3,577 interior sq. ft. in size throughout the 17 total stories. Each one is fully equipped with custom kitchens with European cabinetry, high-end appliances, wide floor-to-roof ceilings, and terraces with hurricane impact-resistant windows with stacked sliding glass doors.
Homeowners receive everything they want within this elegant unparalleled tropical property enjoying the comfort facilities of a world-class resort. Here are some of the best amenities it has to offer: a huge 5000 sq. ft. gym and fitness center, incredible views where you can relax beneath the South Florida sunshine, or participate in all kind of water sports, from parasailing to jet skiing due to its bayfront location.
There's also bayfront cabanas and a poolside bar and jacuzzi. Private hair salon, 24-hour room security, full-service concierge service, and valet parking. Located within walking distance of Whole Foods, Flamingo Park, Walgreens, Joe & the Juice, Oliver's Bistro, and Taste Bakery Cafe. If you want to drive, Mirador 1000 is 5 minutes from more than 150 restaurants and shops on world-famous Lincoln Road, it is 7 minutes away from the beach, 15 minutes from the financial district of Brickell, and 20 minutes from the Miami International Airport.