Ultra-luxury real estate has not stopped if we consider the COVID-19 pandemic last year. In fact, the number of buyers in this kind of property has shown an interesting growth in the past few months, showing that finding a home that has it all is not an expenditure but now more than ever a necessity and an investment.
People are looking for a place to call home, somewhere where there are ample spaces, natural lighting, spectacular ocean views, and the ideal spot to relax, to have fun and forget about the pressure all over the world, keeping a healthy and happy lifestyle in confusing times. That is why ultra-luxury penthouses are now viewed as a significant option when it comes to finding the right place to settle in for people and their families.
And what better location to find a great penthouse than Miami Beach, the ideal spot with great, modern developments and an array of amenities that give a sense of wellbeing to residents, besides the huge list of hot places to eat, enjoy and shop. Penthouses are the representation of the complete package for people looking for a large area to sleep, relax, be entertained and, in the current times, even work from home.
All of this can be found in one of the exclusive penthouses there are in South Florida, including matchless views of the city's skyline and the imponent deep blue ocean, all of them at the top of the buildings that belong to the most important streets and avenues in the town.
That is why we have collected the most extraordinary ultra-luxury penthouses for sale in Miami Beach above 5 Million dollars, each one with a distinctive and unique feature. Here is the top 10 list, as of February 2021:
3651 Collins Ave #PH, Miami Beach, FL 33140 – $20,000,000
This 4,642 Square Feet penthouse has natural luminosity from every point, with a 180-degree view to watch the ocean or the city's movement. There are cozy balconies that are in front of the spectacular beach, great places to take a deep breath and relax.
Modern details on the inside, like the living room next to the floor-to-ceiling windows, give more amplitude to the penthouse, also wood is the star material that adorns every surface. Bathrooms right beside the rooftop to take a bath watching the hypnotic sky are one of the coolest features.
On the other hand, there is a distinctive rooftop terrace with a wooden floor and a pool, stairs, and plants that allow getting an unobstructed view of the mythic Miami skyline, designed by the firm Arquitectonica. Likewise, amenities include beach rights, a fitness center, private membership, a sparkling pool and a pleasant deck, a garden waterfall, and concierge services.
Full Details and Image Gallery
1455 Ocean Dr #PH1-2, Miami Beach, FL 33139 – $16,500,000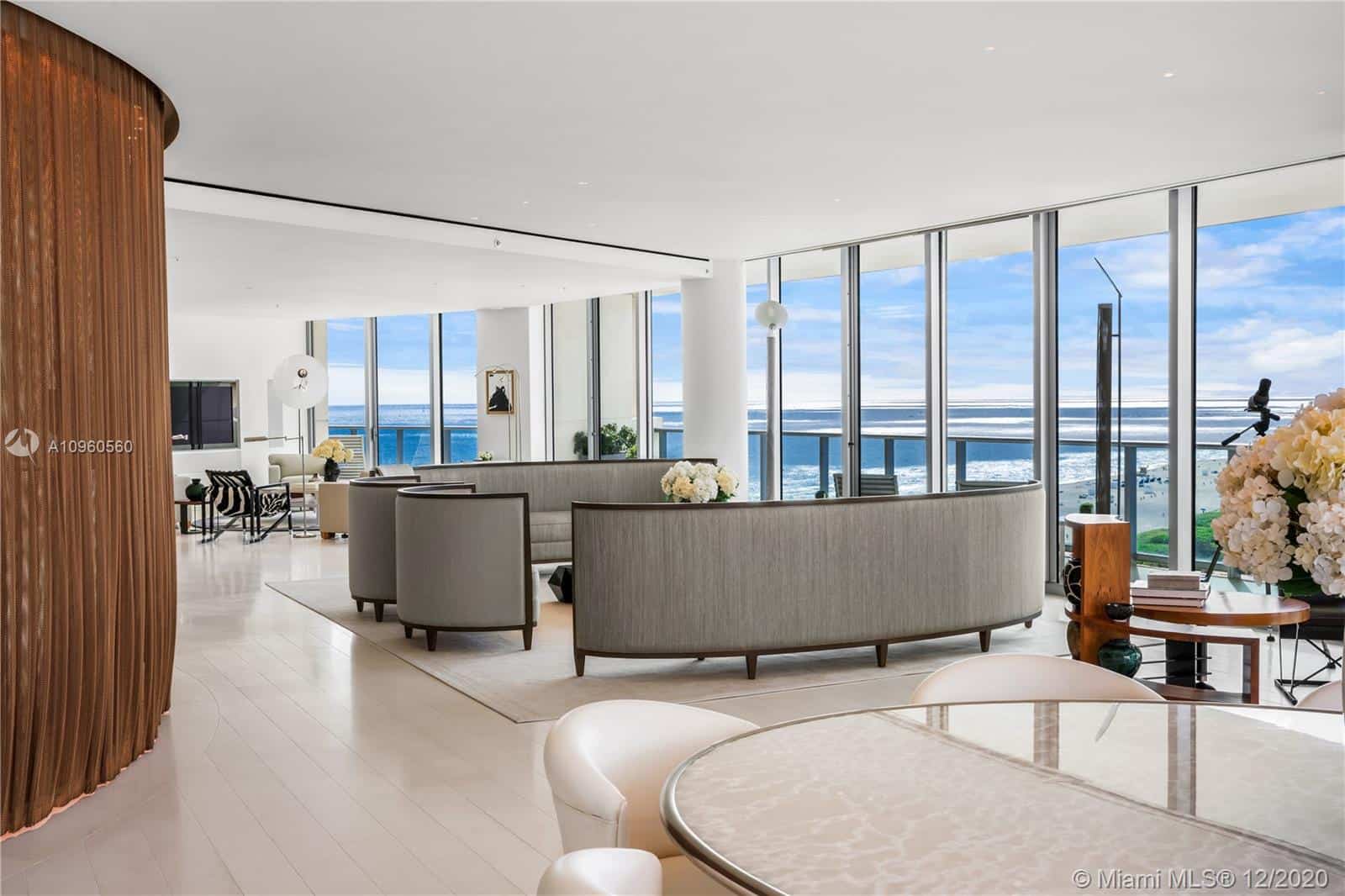 Surrounded by marvelous palm trees and exotic vegetation, Il Villaggio luxury condo building is located, a high-rise with unmatched amenities, such as a heated infinity-edge pool with cabanas overlooking the ocean and a relaxing sauna, a community room, a fully-equipped fitness facility, private beach club, 24-hour security, tennis courts, concierge and valet services, and covered resident parking garage.
Inside Il Villaggio, there is a groundbreaking penthouse of almost 6,000 Square Feet with unbeatable features, starting with the extensive view that residents can enjoy from every room, due to the large windows that give the clearest panorama of Miami's skyline and the inviting beach, which is just a few steps away from the high-rise. Created by Parisian designer Andree Putman, which brings the cosmopolitan European aesthetic to tropical Miami, residents can find a hypnotic spiral staircase that connects the social areas with the private ones; lush bedrooms with walk-in closets and lovely furniture, and a comfortable office to get down to business in a calming space.
The outside is even better than the inside: cozy balconies and a wonderful large rooftop terrace with a wooden floor and fixtures that belong to this area to watch the sunsets and sunrises made in Miami, including a sun deck, as well as a dining room, barbecue, and a fascinating plunge pool to cool off in the hot summers.
Full Details and Image Gallery
4779 COLLINS AV #TS4401, Miami Beach, FL 33140 – $12,750,000
Situated in the heart of South Beach, this property is at the top of the Blue Diamond Condo building. 9,700 Square Feet, with 8 bathrooms and an impressive number of 11 bathrooms, this penthouse has wooden floors and sophisticated details that match with the lavish ceilings, besides a majestic living room and the roman columns that adorn the largest area in the property.
On the other hand, the luminous bedrooms that reflect on the mesmerizing blue sea are remarkable. The bathrooms are traditionally decorated with superb marble details that make them stand out from other rooms and other homes.
As to the condo building amenities, there are over 16,000 Square Feet of these important spaces, including saunas and steam rooms, oceanfront pools and waterfalls, lighted tennis courts, billiards, an entertainment center, and facial and massage rooms.
For Ultra-Luxury Penthouses for Sale in Miami Beach contact Michael Martirena +1 (561) 310-3009 and Ivan Chorney +1 (786) 863-5900
5171 FISHER ISLAND DR #5171, Miami Beach, FL 33109 – $12,500,000
European architecture that resembles Tuscan villas might be the principal source of inspiration for this dazzling property, where the main star is the waterfront view and the legendary Miami skyline, an established landmark. This 7,924 Square Feet penthouse located in Bayview Fisher Island has a terrace with a generous ceiling and the right furniture to have a first-class ticket to watch the ocean this close.
Massive columns and elegant tiles that adorn the high ceilings on the inside, and a beautiful chimney in the living room are such a feast to watch. The whole home looks like a museum with the best samples of architecture and design: from traditional pillars and arches to splendid marble floors and breathtaking chandeliers, this penthouse is an artwork by itself.
Bedrooms are open to the sea horizon and bathrooms perfectly represent the lush life many aspire to have sooner than later. An office with a graceful chimney also completes the features of this home that looks more like a palace than an urban penthouse.
Basketball court, boat dock, clubhouse, fitness center, golf course, library, playground, and a nice pool are the top amenities of this community, besides the privileged location where the schools, markets, and restaurants are very close.
Full Details and Image Gallery
7471 FISHER ISLAND DR #7471, MIAMI BEACH, FL 33109 – $9,750,000
Built in 2002, 7400 Oceanside Residences is one of the most wanted buildings located in the vibrant Fisher Island, and this extraordinary 4,932 Square Feet penthouse is the cherry on top.
Marble floors, neat ceilings and ample surfaces with enough space to even put a piano, an extremely huge living room with a delighting outside view that brings luminosity; onyx bathrooms, magnificent bedrooms to rest in a royal-like room, as well as curvy shapes and golden lines that give a lavish and distinguished look to each room; these are some of the most astounding features of this property located on the East side of Fisher Island.
But that is not all: A generous kitchen with all the appliances, a private movie theater to enjoy with the family living a more private experience at home, and 3 garage spaces are what make this penthouse one of the most sought-after of this kind. On the outdoors, the quality is not lower: An astounding terrace situated within few steps to the ocean, offering the freshest breeze and ornamented with classic pillars, giving a sophisticated aesthetic.
In terms of amenities, just to name a few, there is a boat dock, a business center, a clubhouse, fitness center, playground for the little ones, tennis courts, pool and sauna, beach access, and even on-site retail.
Full Details and Image Gallery
5025 COLLINS AVE #PH1, MIAMI BEACH, FL 33140 – $7,800,000
This home is the epitome of sophistication and elegance reunited in a fantastic place that resembles a classical design, with Greek columns and arches in the living room and some bedrooms and impressive ceilings with special details and materials. Beautifully painted rooms with an array of interesting textures and classic furniture that seems to belong to a majestic Royal Palace, mixed with an extensive waterfront view of the deep blue ocean are the main features of this penthouse located in Capobella Condo.
Floor-to-ceiling windows make this 4,477 Square Feet unit more spacious and luminous, and the 300 feet of a wrap-around balcony, which can be accessed from any room, is of great help to offer residents and visitors the ideal spaces for enjoying the best mix of the interiors and outdoors.
This 4-bedroom and 4 ½ bathrooms penthouse is ideal for large families who look for a home to live the entertainment life 24/7 since it includes a private poolside and beach cabana, as well as a barbecue grill and a courtyard for the children to play outside.
As to the building's amenities, these include a boat deck, a fun billiard room, bike storage, clubhouse, fully-equipped fitness center, a large pool, a calming spa with a hot tub, recreation facilities, picnic area, beach rights, and business center, all at residents' disposal.
Full Details and Image Gallery
For Ultra-Luxury Penthouses for Sale in Miami Beach contact Ivan Chorney +1 (786) 863-5900 and Michael Martirena +1 (561) 310-3009
520 West Ave #PH-A, Miami Beach, FL 33139 -$6,990,000
Black, Navy blue, and white are the predominant colors in the palette of this penthouse. Modern shapes and furniture are the main inspiration and source of style in this incredible home, making it an excellent place for a large family whose members enjoy art and a lavish lifestyle. Large windows that bring the best of the sea and Miami skyline to be seen from the ample living room or dining room.
Besides, there is a small bar with lights at night that give the perfect party mood, to enjoy a fun cocktail night with friends or celebrate at home; next to this spot, there is an open kitchen surrounded by modern sculptures and distinctive glass stairs in this 6,112 Square feet home.
Residents can also find a beautiful office with the greatest view of the sea, to get the right amount of creativity and productivity, inspired by this enviable landscape. On the other hand, the master bedroom has a remarkable view to the outside of the building thanks to the glass wall in front of the bed. Walk-in closets and dreamy bathrooms make a perfect match with the whole penthouse aesthetic, with elegant materials and a bathtub right beside the glass windows.
The amenities of the condo building include a sauna and steam room, an infinity-edge swimming pool and a landscaped pool deck, as well as dual Jacuzzis, and a fantastic exercise center and spa.
801 S POINTE DR #PH4, MIAMI BEACH, FL 33139 – $6,950,000
Marea is home to this wonderful 3,022 Square Feet penthouse, different from other residences with these characteristics. This property is still waiting for the right residents to enjoy this artwork and to live a full entertainment and relaxation experience.
An outstanding rooftop with greenery all over the place, a fantastic wooden stairway that ends up in an inviting plunge pool; this 2,675 Square Feet private rooftop terrace was designed by renowned Swiss landscape architect Enzo Enea, and it also includes an outdoor kitchen, a comfortable dining room and a large spot for placing a gigantic living room, and an impressive wooden floor deck to enjoy a fresh afternoon or evening watching how the lights of the skyline turn on progressively.
Outstanding views of the bay and a special luminosity that enters through the dazzling floor-to-ceiling windows, and a spacious living room are just the beginning of what people can find inside this property. Also, imponent columns, accent walls, and light oak wood flooring are the main elements that give the penthouse a touch of elegance, in addition to a sophisticated minimalist kitchen, stunning bathrooms with marble details, walk-in closets, and two garage spaces for residents. Likewise, each bedroom has a private balcony door to welcome the new day with direct ocean views.
As to the amenities: the condo building has a private pool surrounded by glossy vegetation, a state-of-the-art gym with the latest equipment, beach rights, a fitness center, barbecue, picnic area, private membership, and a sauna with a spa and a hot tub.
5801 Collins Ave #Ph1500, Miami Beach, Fl 33140 – $5,290,000
This impressive construction is nested inside the Villa di Mare Condo building, and the advantages it offers to its residents are endless. Starting with the best 360-degree view of the exclusive tower, this 4,826 Square Feet penthouse gives the ideal chill vibes and is the perfect spot to live with the whole family without feeling suffocated, because there is plenty of room for everybody!
This property is the art gallery many people wish to have inside their homes, and every space is a masterpiece by itself, with a unique style and aesthetic. The kitchen is so dreamy with the wooden panels that give a high sense of elegance; as to the bedrooms, they are perfectly decorated and are ample retreats with a great luminosity coming from outdoors and entering through the huge windows.
On the other hand, watching the sunrises and the magical sunsets Miami Beach offers is not a problem from this amazing penthouse, where people can get an unobstructed view from the ultra-private rooftop with a heated infinity pool and a kitchen outdoors for having cool gatherings with family and friends. Other great features of this fantastic home are a small bar, an oceanfront principal bedroom, 3 private elevators, and custom decoration.
Some condo amenities of the select Villa di Mare include an oceanfront pool and pool deck, gym with massage treatment room and sauna, lovely cabanas on the beach, 24-hour security, concierge, and valet parking.
102 24th St #Ph-1603, Miami Beach, Fl 33139 – $5,200,000
Located in 2399 Collins Avenue in the astounding One Hotel & Homes South Beach Condo building, this 3-bedroom and 3 ½ bathrooms penthouse offers incredible and inspiring oceanfront views from the cozy balcony and the inside, where the landscape is still visible due to the clear floor-to-ceiling windows which bring the freshest breeze from the beach.
This 2,220 Square Feet unit is a dream come true for those who value a large space, especially a wide living room to enjoy entertainment time in an area with natural light. Wooden floors, an open kitchen with the most modern appliances, bedrooms with a private balcony, and an elegant bathroom are the best features of this extraordinary penthouse nestled in the wonderful Miami Beach.
Some amenities of the high-rise are the housekeeping and concierge services, a private residential lobby, 4 pools, one of them being an inviting rooftop pool with panoramic views, 600 linear feet of a gorgeous oceanfront boardwalk, Bamford Spa, a 14,000 Square Feet fitness center, valet parking, among others.
Other Ultra-Luxury Penthouses for Sale in Miami Beach below 5 million
The above are the top 10 hand-picked Ultra-Luxury Penthouses for sale in Miami Beach, but the list of luxury homes doesn't stop here. Please continue browsing to see all the high-end listings and enjoy the full image galleries:
Feel free to bookmark this page and come back for the updates in Ultra-Luxury Penthouses for sale in Miami Beach.