Sunny Isles Beach has the Atlantic Ocean on the east and the Intracoastal Waterway on the west as its most important landmarks, where people look for a location where privacy and quietness are the main features. But this does not mean the fun and the adventure will not be available, since there is plenty of entertaining experiences for everybody. With these features in mind, the real estate offer keeps growing, searching for extraordinary buyers that get along with the Sunny Isles Beach lifestyle.
In this article, we present the top ten list of Ultra-Luxury Condos for sale in Sunny Isles Beach above 15 million, considering distinctive features, condo building amenities, and particularities of each property, as of March 2021:
Sunny Isles Beach, FL, 33160 – $31,000,000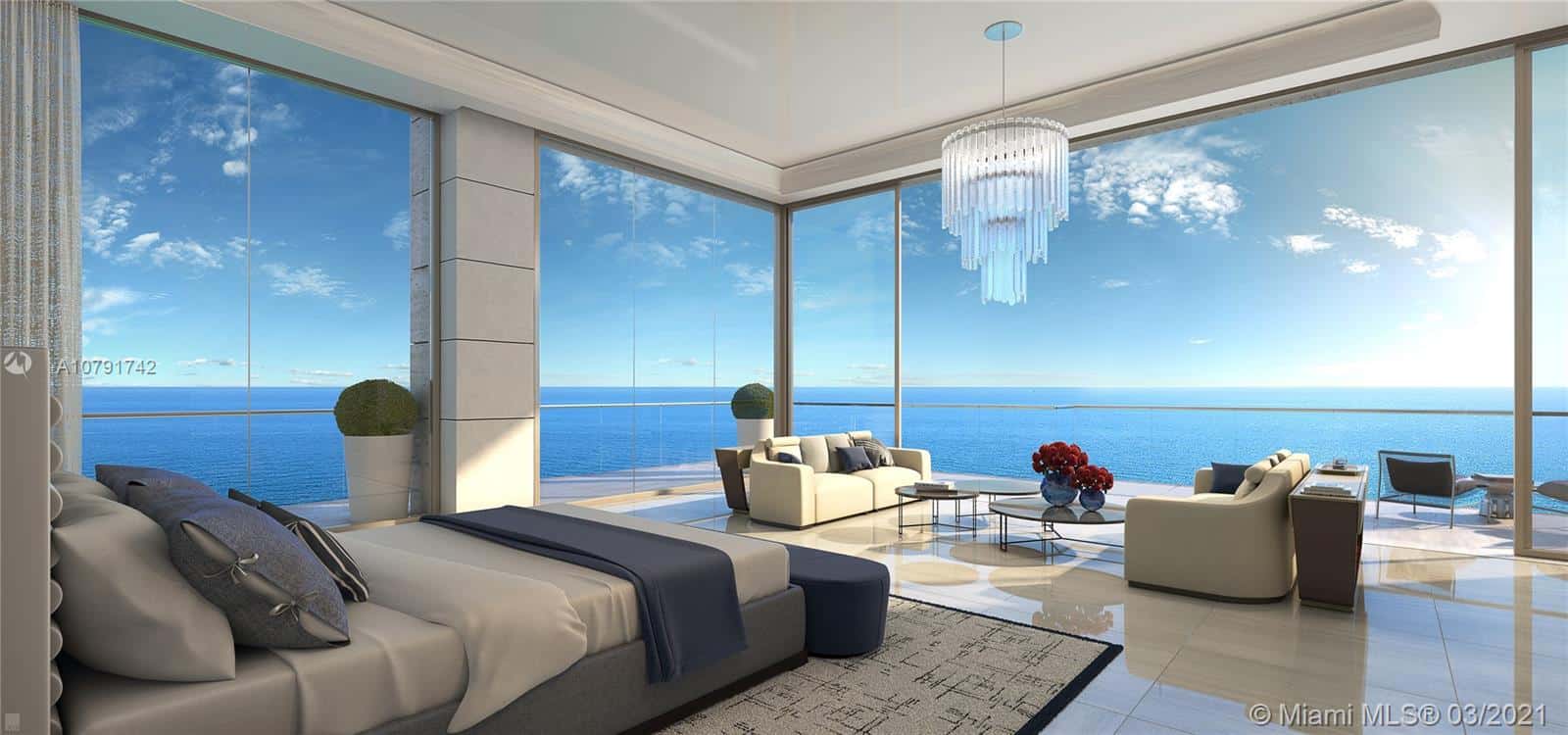 This two-story condo is the depiction of luxury and a total entertainment experience where families can get everything they need at home. Located in Estates at Aqualina, this residence offers 180-degree views of the ocean, Downtown Miami, and even Fort Lauderdale, an outstanding infinity pool that blends with the ocean water.
On the inside, this home features gigantic floor-to-ceiling windows that give the most complete look of the ocean from the living room or the bedrooms. Likewise, beautiful ceilings with an art deco style stand out to show the unique spirit that this residence reflects, a special place for those who identify with being one of its kind, matchless and inimitable.
19575 Collins Ave 43, Sunny Isles Beach, FL, 33160 – $29,950,000
Regalia Sunny Isles Beach is home to this extraordinary 16,805 Square Feet luxury penthouse that marks a difference with other similar constructions thanks to its particularities: a wonderful terrace surrounded by green bushes that give this place a diffuse line between the outside and the inside. Indoors, the three-story property brings the attention of visitors and residents with the lovely details and materials used on each room in the house, giving them a fun singularity without losing elegance.
This unit was likely built with an idea in mind of a family who values amplitude, tranquility, and chicness over anything else. From every room, residents can see the power of the ocean inside their private palace, incorporating it effortlessly into the fun and entertaining activities, which include a private spa equipped with sauna and steam rooms.
Full Details and Image Gallery
16901 E Collins Ave 5503, Sunny Isles Beach, FL, 33160 – $27,320,000
An ultra-modern kitchen with a futuristic touch, a laidback office space, a gigantic master bedroom with a seating area, a bathroom surrounded by the image of the deep blue sea and the city skyline, an ample terrace with a jacuzzi, and the best view of the ocean and the feeling of the breeze, a comfortable family room to hang out and relax, a splendid living room with a modern design, and an entry vestibule that resembles the ones of the luxury resorts. These are the most important features of this impressive ultra-luxury penthouse located in the Jade Signature condo building.
An important detail of this gorgeous property: it was designed exclusively by renowned French designer Pierre-Yves Rochon, known for his notable works in the Ritz-Carlton Hotels, Four Seasons, and Peninsula Hotels.
Full Details and Image Gallery
17475 Collins Ave PH-3201, Sunny Isles Beach, FL, 33160 – $21,950,000
This penthouse of the Chateau Beach in Sunny Isles Beach is the whole package: the best panoramic view of the building, an inviting private pool, a majestic terrace with access from both floors, high ceilings, stylish bathrooms to relax completely, large open kitchen with a side ocean view, a private sauna room, private elevator, and spacious bedrooms with unobstructed ocean views.
In terms of amenities, residents can have access to a pool deck with an infinity-edge pool, Moon Bar with spectacular ocean views, spa services, signature spa, and aromatherapy Jacuzzi, fitness center, wine lounge, cigar bar, kids club, and home theater.
19575 Collins Ave 3, Sunny Isles Beach, Florida 33160-2297 – $21,900,000
This place can be defined as an ultra-modern residence where lavishness and art represent the essence of Sunny Isles Beach. This condo has a glorious wraparound terrace with an inviting pool and hot tub surrounded by tropical foliage of palm trees and an exquisite view of the ocean. Wooden details and touches inside the home are a feature that reinforces the match of luxury with nature, besides the long windows that allow getting an unobstructed view of the city.
This gorgeous two-floor residence is in the Regalia Condo building, offering a laid-back lifestyle for its residents without losing glamour and sophistication in over 17,015 Square Feet. On the other hand, some of the amenities include an oceanfront jacuzzi, private beach and poolside service, pool deck with an infinity pool overlooking the ocean, an indoor-outdoor spa, fitness center, and yoga room, as well as children's playroom and business center with video conferencing.
Full Details and Image Gallery
Sunny Isles Beach, FL, 33160-5664 – $17,800,000
The Estates at Aqualina condo is ideal for families looking for a house that feels closer to the sky than to the land, a paradise made home, where open and luminous spaces are the rule on each room, adorned by top-quality materials and furniture. A magnificent kitchen with an enviable oceanview to get inspired when it is time to cook, a huge living room to get in a festive mood, and lights are not necessary because the moon and the sun get through the generous floor-to-ceiling windows.
Likewise, resting in the bedrooms of this home is a dream come true, literally, since the peaceful sound of the sea waves make the best lullaby, and the bathrooms offer a truly relaxing experience where marble is the main star. As to the amenities in the building, residents can enjoy 45,000 Square Feet of interesting amenities, including 3 stunning pools, a beach club, a flow rider, an ice-skating rink, a movie theater, bowling lanes, and beautiful European-inspired gardens.
Full Details and Image Gallery
16901 Collins Ave Upper Sky Villa 5101, Sunny Isles Beach, FL, 33160 – $17,600,000
Extra high ceilings and a comfortable terrace to meditate or to gather with friends, large windows from one extreme to another making the entire property illuminated with the natural light of the sun, these are some of the features in this superb two-floor home of 6,735 Square Feet on the inside and 1,161 SF on the outside, designed for people who cherish a luxurious lifestyle and enjoy a life of entertainment experiences at home.
Likewise, residents can find in this mesmerizing residence a wonderful wine cabinet, gorgeous Italian-style kitchen, and cozy bedrooms with private balconies. Modern architecture is beautifully reflected in every space; there is even a quiet office for full focus, next to the ocean to get inspired when working from home.
Located in the Jade Signature in the wonderful Sunny Isles Beach, which was built in 2018, this building offers a sophistication experience with its amenities for residents and visitors, which include a health and wellness center with a sauna and steam room, beach bar, and grill, wine and juice bar, billiard room, business center, clubhouse, playground, and pool.
Full Details and Image Gallery
18501 COLLINS AVE Sky Villa 3704, Sunny Isles Beach, FL, 33160 – $16,500,000
Marble and wood materials harmonize effortlessly with the architecture of this top-level residence, where there is always room for elegance and comfort. This amazing 6,695 Square Feet duplex features one of the best views of the ocean in Sunny Isles Beach. High ceilings, floor-to-ceiling windows, gigantic, marbled bathrooms, and an extensive wraparound, waterfront terrace with a lovely summer kitchen comprise the main features of this property.
This amazing home of 5 bedrooms and 8 bathrooms is located in Turnberry Ocean Club, which features impressive amenities like a clubhouse, oceanview cabanas, sunset lounge, business center, fitness center, swimming pools, and two hydrotherapy spas.
Full Details and Image Gallery
18555 Collins Ave 4405, Sunny Isles Beach, FL, 33160 – $16,500,000
This 6,684 Square Feet luxury condo was built for those interested in making their home an art gallery where extravagance and delight are the perfect combinations to live by every day. And this space is the perfect representation of this idea thanks to the 21-foot ceilings, the lovely walk-in closets, spacious and elegant bathrooms, as well as the personalized rooms and the materials used in the construction of this residence, which include marble, wood, and metals.
Additionally, residents can enjoy a private pool party in the lovely terraces where the ocean view is unobstructed and unmatched. As to the amenities of the building where this condo is located, they include a fitness center, game room, and virtual sports simulator, an inviting oceanfront pool.
Full Details and Image Gallery
18555 Collins Ave 4005, Sunny Isles Beach, FL, 33160 – $15,500,000
Located in the stunning Porsche Design Tower, this dazzling duplex penthouse has direct oceanfront views that can be seen from the marble floor in the wide living room and through the floor-to-ceiling windows. Luminosity comes from everywhere in this home due to the ample windows on each room, diffusing the line between the inside and outside. A wraparound balcony offers a refreshing breeze that comes from the sea waves. This is an interesting place to reflect on, and even have a different kind of lunch or a romantic dinner by the ocean.
On the other hand, residents will not have any problem finding their cars, since this amazing condo has a generous private 4-car garage outside home. There is also an internal elevator to get private access to this magnificent home for people who take their love for cars, luxury, and freedom to another level. About the amenities of the Porsche Tower, some include private beach access, a yoga center, a fully-equipped gym, a movie theater, and a restaurant, all created to shoot up the residents' entertainment experience.
Full Details and Image Gallery